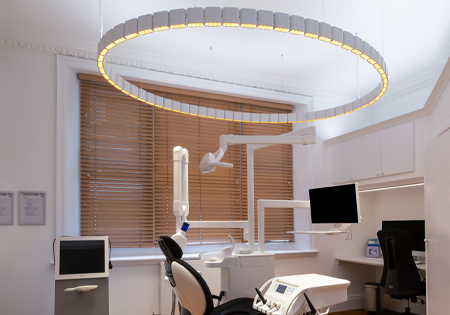 Wimpole Street Dental Clinic, London


Lighting design by Syntax Lighting
Photography by Richard Washbrooke
Dental surgery design by Apollo Interiors
Thanks to Prof. Dr. Christian J. Mehl

Radiant's custom ellipse-shape Centura system pendants, with up and down light, provide a highly controlled lit effect within the Wimpole Street Dental Clinic whilst also being visually elegant in their form factor.

Each 100mm module comprises four high-power LEDs with elliptical beam lenses providing the down-light effect. Gold finish anodized anti-glare louvres provide excellent visual comfort. Every second module has a dynamic-white COB housed in the top which provides a wash of light upwards onto the ceiling above.

The dimming of both colour temperature and light intensity can be easily adjusted using a smart device thanks to the Casambi compatible dimming kit.