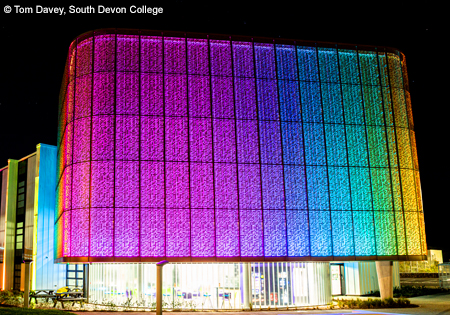 Hi Tech & Digital Centre, South Devon College
Lighting design by
Michael Grubb Studio
Architecture by
LHC Design
Radiant's
3D LED Flex 40 IP66 RGBW
system with double-spaced modules was used by Michael Grubb Studio to provide a light graze effect up the facade of the Hi Tech & Digital Centre of South Devon College.
A single run of this system is installed along the curved profile of the base of the facade. Each module is being run at up to 5 Watts and elliptical beam Gaggione colour-blending lenses distributes the light up the entire height of the facade.
Each module is addressable via DMX.
This project has been shortlisted for the Darc Awards and the Surface Design Awards.