Euclid 20 Balljoint IP20
Modular, 3D flexible LED linear lighting system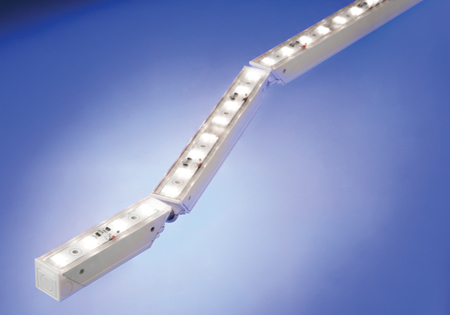 The Euclid 20 Ball-joint system combines the simplicity of the Euclid 20 with the total flexibility of the 3D LED Flex range.

The system incorporates the same medium power LEDs used in the Euclid 20 so that these systems can be used together on the same project. On board linear drivers and LEDs in a wide variety of colour temperatures with CRI up to 95. Up to 1,000 lumens per ft (3,500 lumens per mtr) for the high-output version. Opal, Dot free opal, clear window and linear lens versions are available.

Strips up to 8.3' (2.5 mtrs) can be comprised of custom combinations of modules of any specified length - increments of 4" (100mm). E.g. a 2 Mtr strip comprised of 10 x 200mm modules. RGBW and dynamic white light engines can also be incorporated in this system.