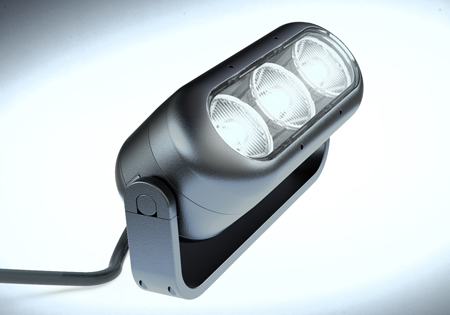 The Radiant D200 system has been developed for use in a wide variety of interior architectural lighting projects requiring highly controlled accent lighting effects from a compact luminaire.
The D200 can operate up to 12.5 Watts of LEDs, giving a light output of up to 1,100 Lumens.
The D200 comprises of 3 x arrays of 4 x RGBW Luxeon-CZ LEDs with highly efficient Gaggione colour-blending lenses.
The Gaggione lens system includes ultra-narrow 2-degree beam and elliptical beam options, allowing highly controlled lighting effects to be achieved.
The custom light engines can be specified in any combination of RGBW, RGBA or tuneable- white light LED options, allowing lighting designers to create effective dynamic lit effects.
Integral AC to DC constant current driver with DALI, DMX, or 1-10V dimming interface options. The system has no visible fixings and anti-glare snoots provide excellent glare control.
Adjustable angle bracketry allows for the light output to be precisely aimed.
Available Q3 2022
Contact Radiant for any additional information.